All your libraries in just one window
Free
With their associated Caches, Media Folders, External Files…

Final Cut Library Manager instantly displays all of the Final Cut Pro libraries that it finds on your Spotlight-indexed drives. When a Library references external media Final Cut Library Manager will automatically create a group to clearly present the distribution of these media files across your system. You can also add other sources : including external disks, or folders, including those not indexed by spotlight.
Reclaim Gigabytes of disk space
Anything that can be regenerated by Final Cut Pro can be deleted with just a few clicks: you can delete Renders, Optimized Media, Proxies, and Optical Flows for one or more libraries at a time! See in action.
And for extra safety, FCLM ensures that each optimized media still has its original media before deleting it.
Search everything, everywhere
With the Advanced license, you can now search among event names, project names, notes, comments, media keywords, media file names and even their personalized names in Final Cut Pro.
If a media matches your search, it will be highlighted in yellow in the list of internal or external media, accessible with a single click.
You can then preview it using QuickLook, display it in the Finder or, in the case of internal media, copy it to the location of your choice.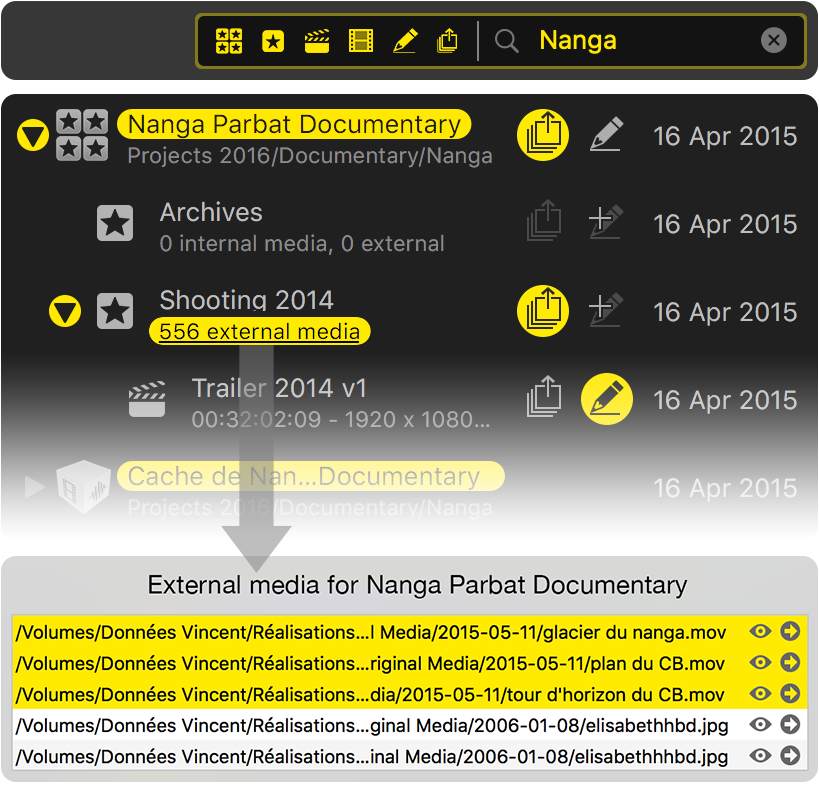 Know everything on everything
Free
Even if elements are disconnected or missing
You can now look into your libraries without having to open Final Cut Pro. Events and projects are displayed, along with lots of useful information.
Final Cut Library Manager also gives you detailed information on used and recoverable disk space.
You can find out which external disks you need to reconnect to have access to your libraries. Quickly find missing libraries so that you can track them down before it's too late! And if you choose to keep your media and caches outside of your library assets then you can now see where they're stored and which disk to reconnect to get them back online.
Finally, you can see a detailed list of all exported media, whether they've been exported as file, or uploaded to the internet.
Play with your Libraries
Free
Perform basic management
Sort them by name, size, date…
Filter them by type, or state…
Create libraries, either empty or from a template that you create…
Search for a library based on its name, then instantly open it...
Have fun!
Duplicate, Move, Delete
Stay in Final Cut Library Manager to duplicate, move, or delete your libraries - you no longer need to resort to the Finder for these tasks.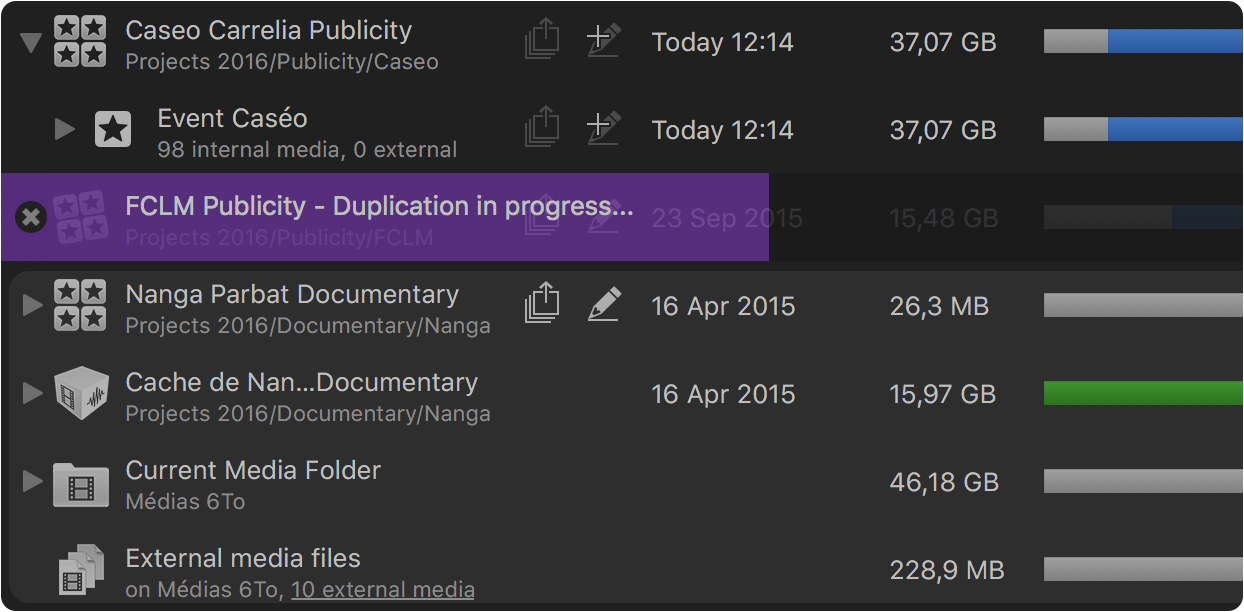 Access to Exported Media
This option provides direct access to your exported media files: preview them in QuickLook, send a link by email, or open those published on the internet directly in your browser.
Tip: FCLM tries to track the movement and renaming of your exports, however exports which can no longer be located can be listed by holding down the Option/Alt key, where they can be re-linked to the file manually. See in action.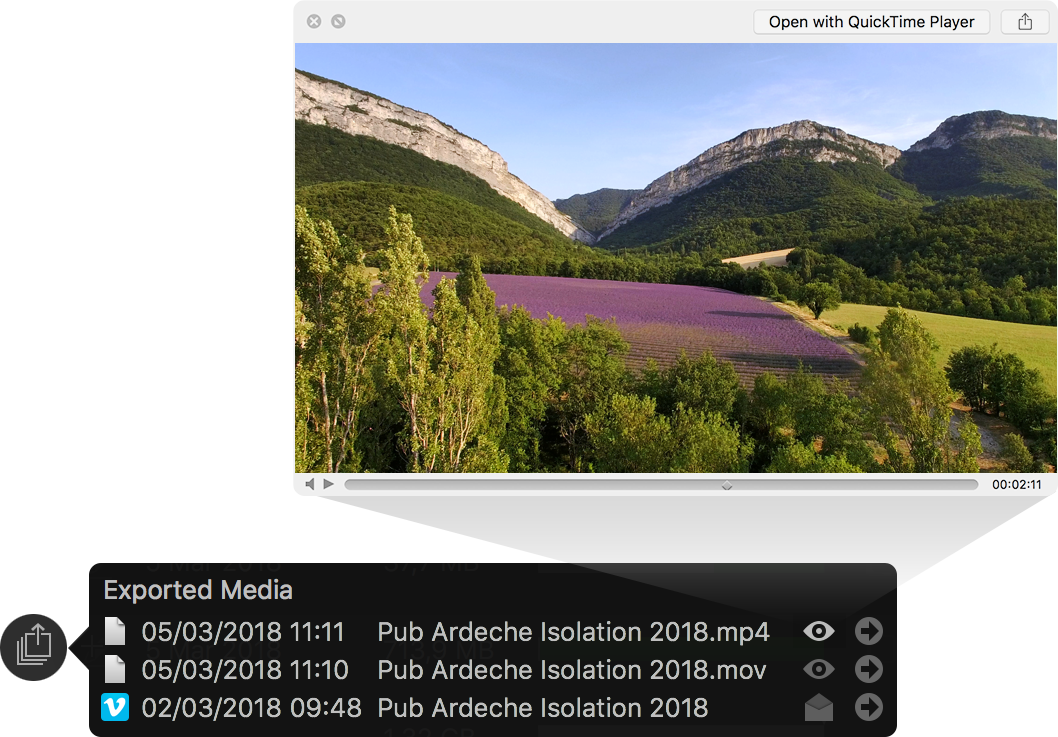 Export to CSV
To enrich your workflow, you have option to export the list of libraries displayed in the main window to a CSV file, which you can then sort and format to your needs using a spreadsheet. The export takes into account your current sort, filter and search options. (Window Sample)
You can also export the list of all internal and external media for a given library, present or off-line, to a CSV file. That's great for sorting them, or performing searches or comparisons using your favourite tools.
(Media Sample)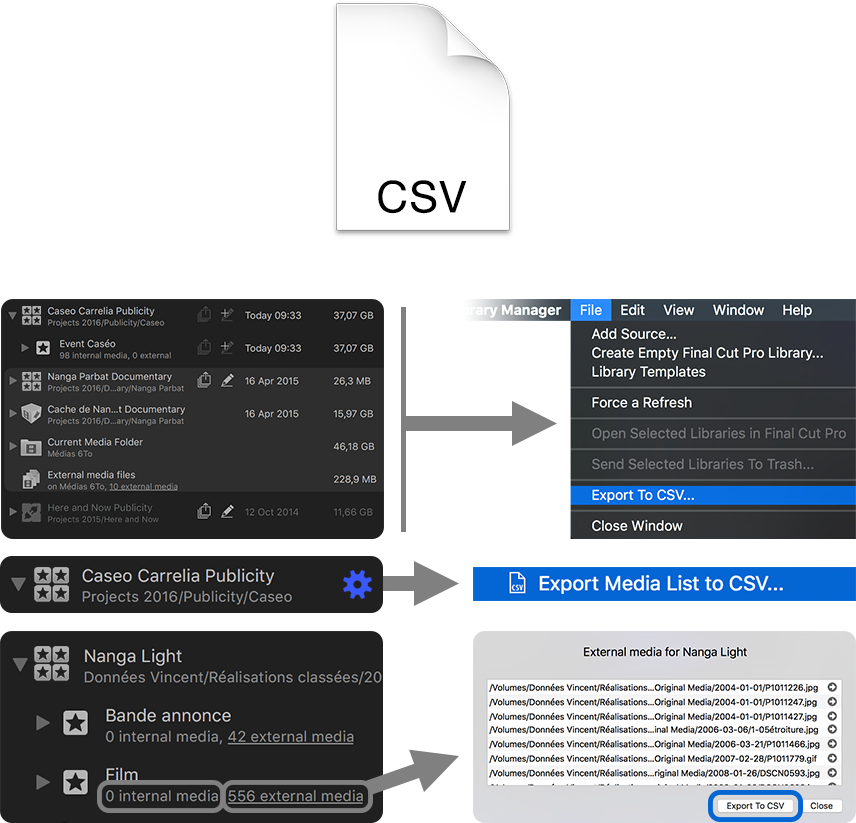 Create lots of templates
Prepare specific libraries in Final Cut Pro X with your own keywords, files, smart collections, titles… Then use Final Cut Library Manager to duplicate them as a new Template. You can create new libraries from this template whenever you need!
Click here to learn more about Library Templates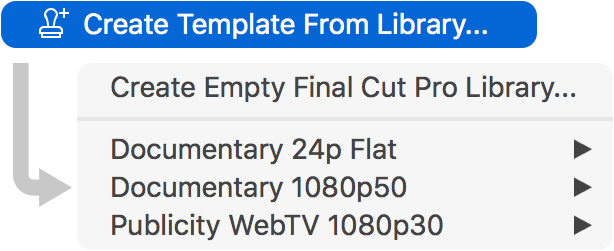 Note-taking with Ease
Quickly read and modify the same comments that are also accessible using the Finder. The comments are even cached so that they can be read when the library is offline.